Could You Knit This Shape
Morticia Addams knitted some challenging shapes for the Addams Family cousins. Morticia knitted a sweater for Cousin Imar -- He had three arms. For Cousin Plato, Morticia knitted a customized ski cap. Cousin Plato had two heads. The left head was size 6, and the right, size 8.

So, could this 'doughnut' be fun -- just to see if it could be done?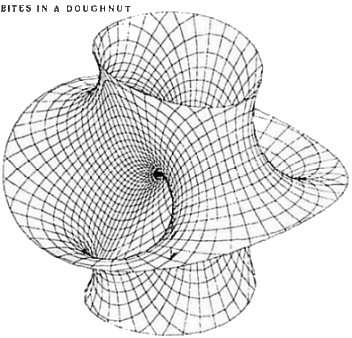 This illustration as well as the following image are from the book The Mathematical Tourist, Snapshots of Modern Mathematics by Ivars Peterson. Peterson identifies this shape as Hoffman genus-1 minimal surface by J. T. Hoffman and D. Hoffman, University of Massachusetts.